USL-W | MN Aurora Enters Playoffs with A Fresh Slate, Despite Opening with A Rematch
The W League's second season has come to a close but playoffs are coming, fast and furious. Kettering University and its Atwood Stadium, in Flint, Michigan, will host the Central Conference semifinals on Thursday, July 6. The Heartland Division's wild cards will play first (at 2pm CST), in a meeting of familiar foes: Minnesota Aurora FC and Chicago City FC. Then (at 6 pm CST) Flint City AFC of the Great Lakes Division will face Indy Eleven of the Valley Division. The winners will face off in a quarterfinal match on Saturday, again at Atwood Stadium.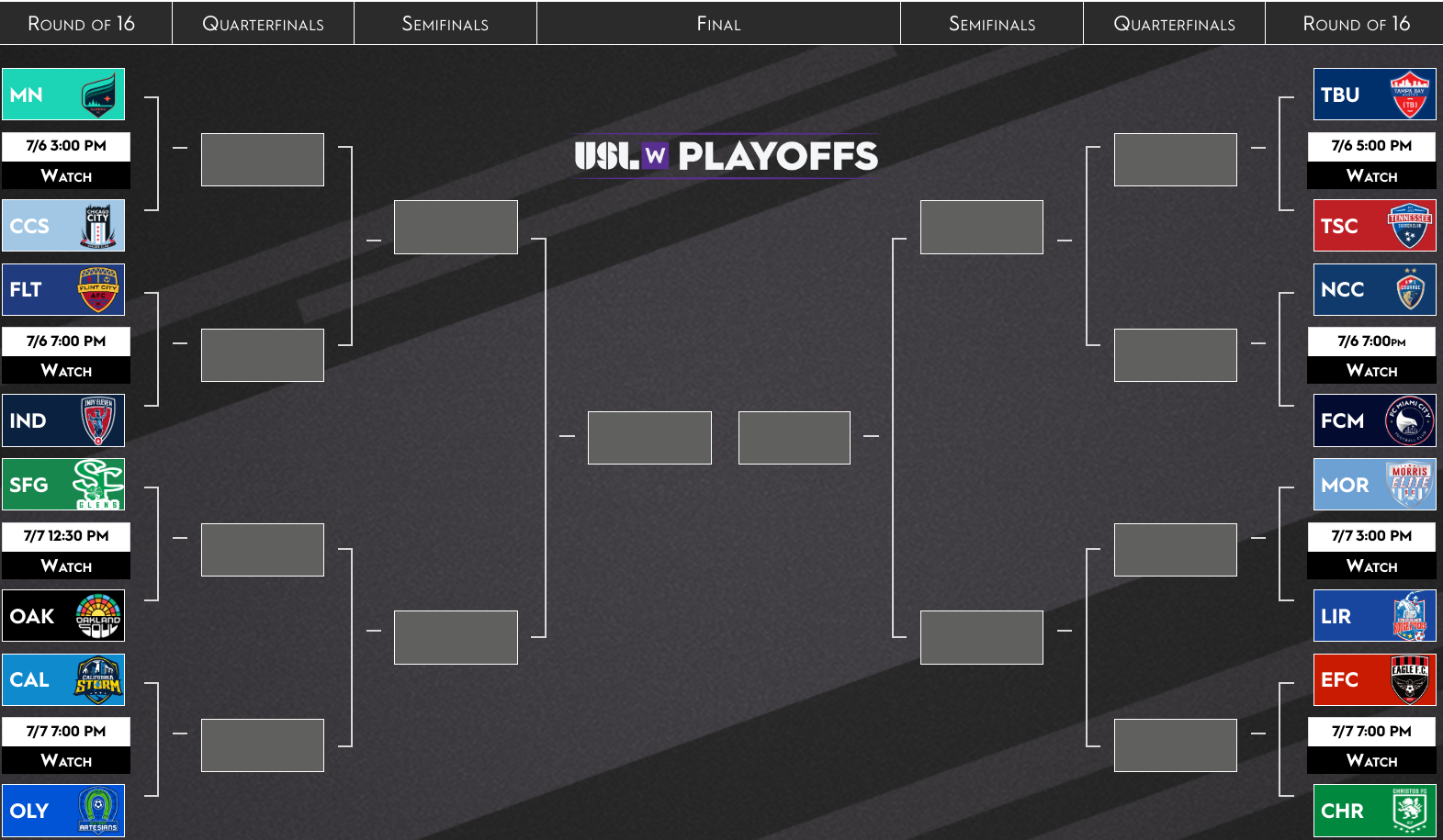 MN Aurora head coach Nicole Lukic and some players spoke with the media following the team's last practice before taking off* for Flint. Tuesday's open training followed a rare two-day break, a necessity ahead of what will hopefully be a continuing compact playoff schedule. "We've been mentally kind of grinded for fifty days or so with just, you know, a day off here and there," Lukic told NLF. "So I think the two days did everybody pretty well for their bodies and just mental energy. We had a good session today and we're excited to get over to Flint."
Minnesota Aurora bolstered their roster ahead of the trip, adding training player Ava Bjorkman Tracy to the squad. The UNC-Ashville player will be a depth option as Hannah Adler is on beach soccer national team duty this weekend and Kennedy Faulknor remains out with injury.
Thursday's opponent is the same squad Aurora faced in their home finale this past Saturday. Lineup tweaks throughout the match against Chicago City SC resulted in a 7-0 win, with six of those goals scored in the second half, but Lukic said not to look at that match as a preview of Thursday's game plan: "We were guessing that it would be back to back Chicago City games so we kept that in mind when we created our lineup on July 1, because we didn't want to do the exact same thing twice. So I would expect it [Thursday's lineup] to be a little different than it was on Saturday."
Midfielder Vienna Behnke, a Wisconsin native with pro experience in Iceland, says playoffs will be a fresh start. "It's just kind of a mindset shift of a whole new season starting, so the regular season means nothing. Now, even though we did really well and we do have a lot of good results [12-0, 60 goals], the slate is clean and we have to start over and prove ourselves right away."
After that near-fifty day grind, two days off felt strange to Behnke, in large part due to the team chemistry built through an intensive, compact season. For a pro (who will be available in the upcoming transfer window, by the way) to speak so highly of the experience with a squad – and league – largely composed of college players getting ready for the fall season and considering pro careers, speaks volumes of Aurora's program.
"I'm looking to play overseas again in this transfer window – hopefully I'll sign contracts now. So it's been a good preparation for me, as well. Just not going back to college, but to go back to another team," said Behnke. "[It's] just a really high level all around, even as we split up into our functional groups and stuff. Even that's a really high level. So it's been – I think everybody's gotten to improve and no matter where you're going afterward, I think it's been really good."
While Aurora has received a lot of attention for both the quality of their goals (with two SportsCenter Top 10 appearances in 2023) and the quantity (Behnke frequently wakes up to texts from teammates overseas asking if the other team got a touch on the ball), their coach remains balanced, still on those "neutral thoughts" from preseason:
"We've played them really well on Saturday, obviously, but we can't take any opponent for granted at this point. Everybody's earned their playoff spot. They worked, Chicago worked super hard to get here so I'm sure we're going to get their best from them."
Minnesota Aurora FC vs. Chicago City SC kicks off at 2 pm CST on Thursday, July 6. Aurora's broadcasting partner Fox9+ will carry the game.
* Notably, we mean "taking off" literally in this case. This is the first time the club has travelled by air for a match. Unfortunately, NLF was told that bus driver/cheerleader Stephen Barry of Jefferson Lines is not able to make the trip.