MN Aurora Closes Out 2023 with Shutout Against Chicago City SC
Minnesota Aurora FC closed out the 2023 regular season on Saturday night with a 7-0 shutout against second place Chicago City SC. With the win, Aurora secured a few big accomplishments: One of only two teams in the W League to go a perfect 12-0-0 (Tampa Bay United of the Southeast Division); the only team to score 60 goals on the season; the highest goal differential (56); and set a new W League attendance record.
Eagan's TCO Stadium was packed with 6,987 fans for the highly anticipated matchup between the Heartland Division's top two teams. The last matchup with Chicago City SC took place on a rainy day in Chicago and ended with a 3-1 win for Aurora. All four of those goals were made in the first half. "Chicago City played a good match and forced us to be better," head coach Nicole Lukic said after that match.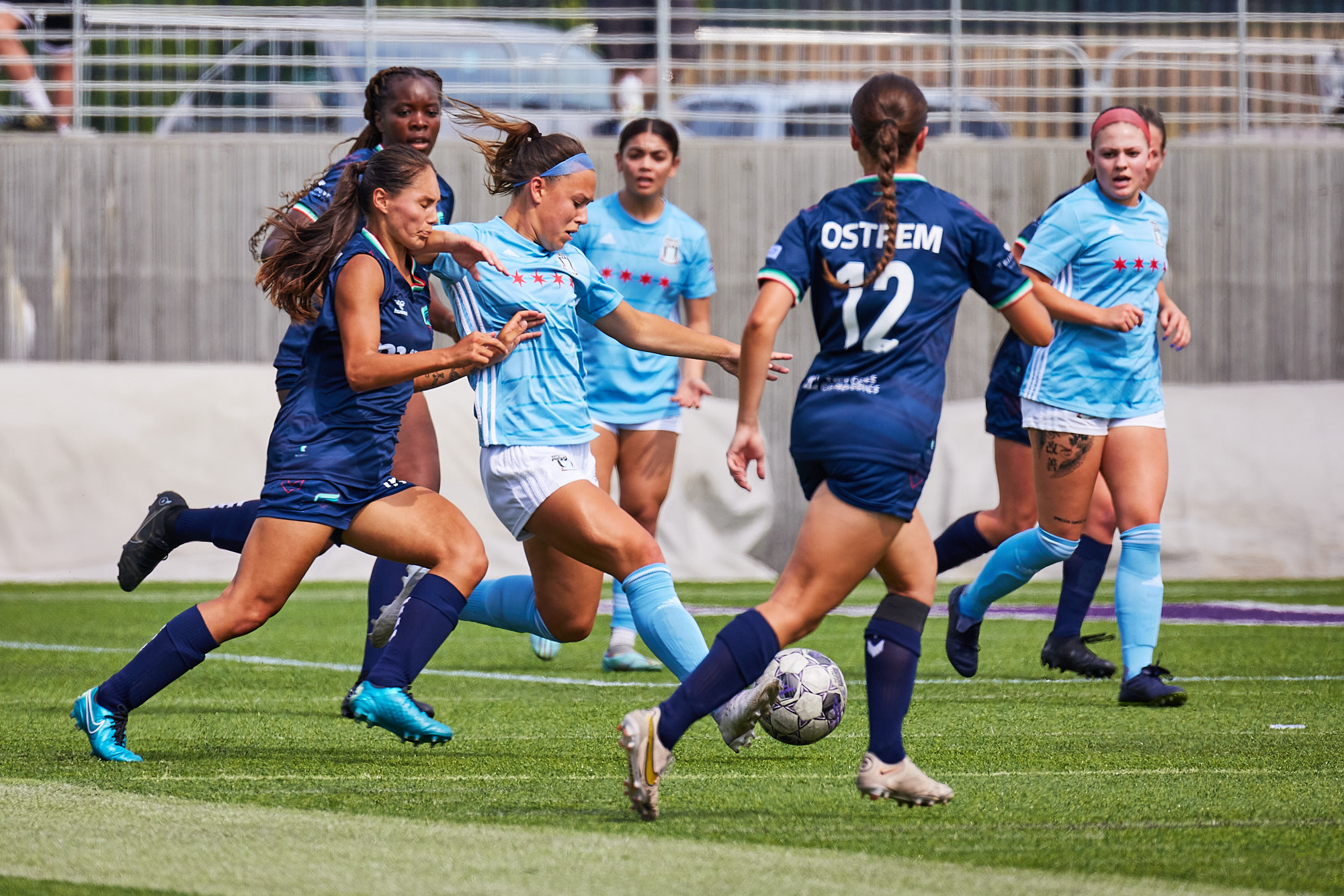 Saturday's meeting started off a bit differently. The fans had to wait over a half hour to sing for a goal. After a lot of time spent in the middle third, with both sides focused on dispossessing the other and cutting off breakaways, Minnesota eventually earned a corner kick in the 37th minute. Addy Weichers, as usual, sent in a picture-perfect ball, finding the head of Morgan Stone whose flick-on caught City goalkeeper, Lauren Keiser, off guard. The corner kick setup looked a little different from those in the previous 11 matches, in which half of the squad typically camped out in the box awaiting service, often with centerback Tianna Harris squared up for any kick taken by Weichers. This time a few more players held back, perhaps expecting a need to quell a City counterattack.
"It just took us a little bit to break them down," said Lukic. "Credit to Chicago – I thought they had a really good first half. They're a physical team that gave us a good matchup."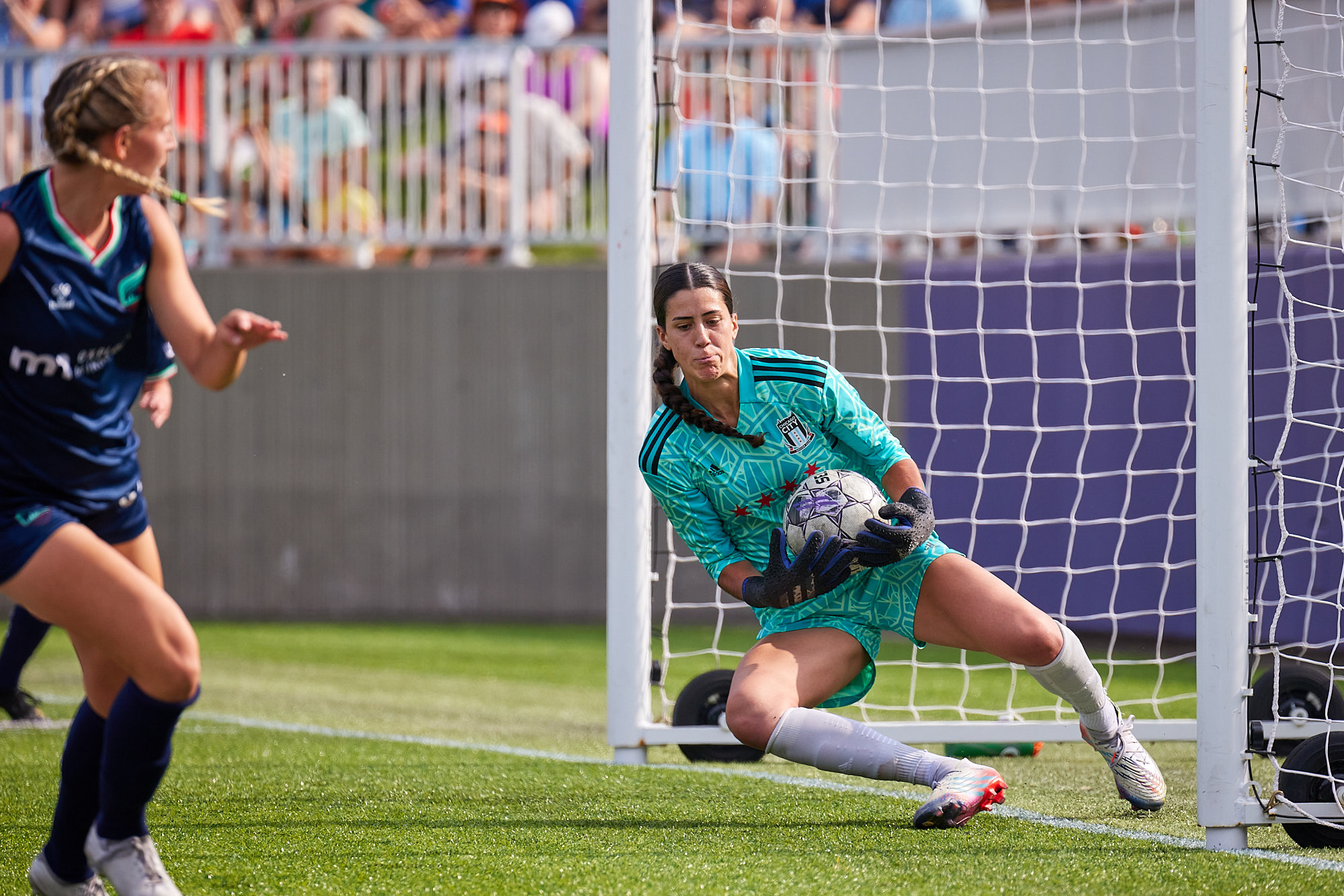 But that opening goal seemed to take an edge off of the squad's nerves. Aurora went into the break with a 1-0 lead. Lukic made some changes and the team came out stronger in the second half: "I think we made a tactical adjustment in the midfield that really helped organize our press a little bit better, which helped us win balls back after we lost them," Lukic explained. "So I'd say that was a key moment and then the other players that came into the second half did a really good job of giving us a spark."
And what a spark that was. Minnesota scored a total of six unanswered goals in a span of 24 minutes. They were all far too good not to highlight (You can watch them all HERE) but due to limited space, here are our highlights of the highlights:
Cat Rapp and Sophie French each bagged a brace
There it is 🤩 pic.twitter.com/qgBqjjXCBc

— Minnesota Aurora FC (@MNAuroraFC) July 1, 2023
Hey nice shot, @soph_french8 pic.twitter.com/aJN5xAWanX

— Minnesota Aurora FC (@MNAuroraFC) July 1, 2023
Maya Hansen added her twelfth goal of the season (a new team record) in stunning fashion.
Hansen from French to put us up 4 💫 pic.twitter.com/Wo2WcdeTy2

— Minnesota Aurora FC (@MNAuroraFC) July 1, 2023
Hannah Adler scored on the second touch of her shift.
She works fast, we know pic.twitter.com/aeZHaLdQ6G

— Minnesota Aurora FC (@MNAuroraFC) July 1, 2023
"I think we were a little frantic kind of [in the first half]," explained Cat Rapp, Saturday's Star Tribune Star of the Match. "I think in the first half the heat and other stuff was just making us more tired. But we'll make adjustments to play our game better, which is why we're here."
Lukic credited passion and chemistry for such consistent results, as well as their coachability . She was also quick to credit the fans, tying them into many of her comments when asked about certain moments of the match.
"Credit to the players who really just show up day in and day out, put in the work. They love this game more than most I know, and they come to train and just show up every single day so that when we get the opportunity to play in front of out amazing fan base, we're able to put seven goals in the net. And obviously people love seeing goals being scored."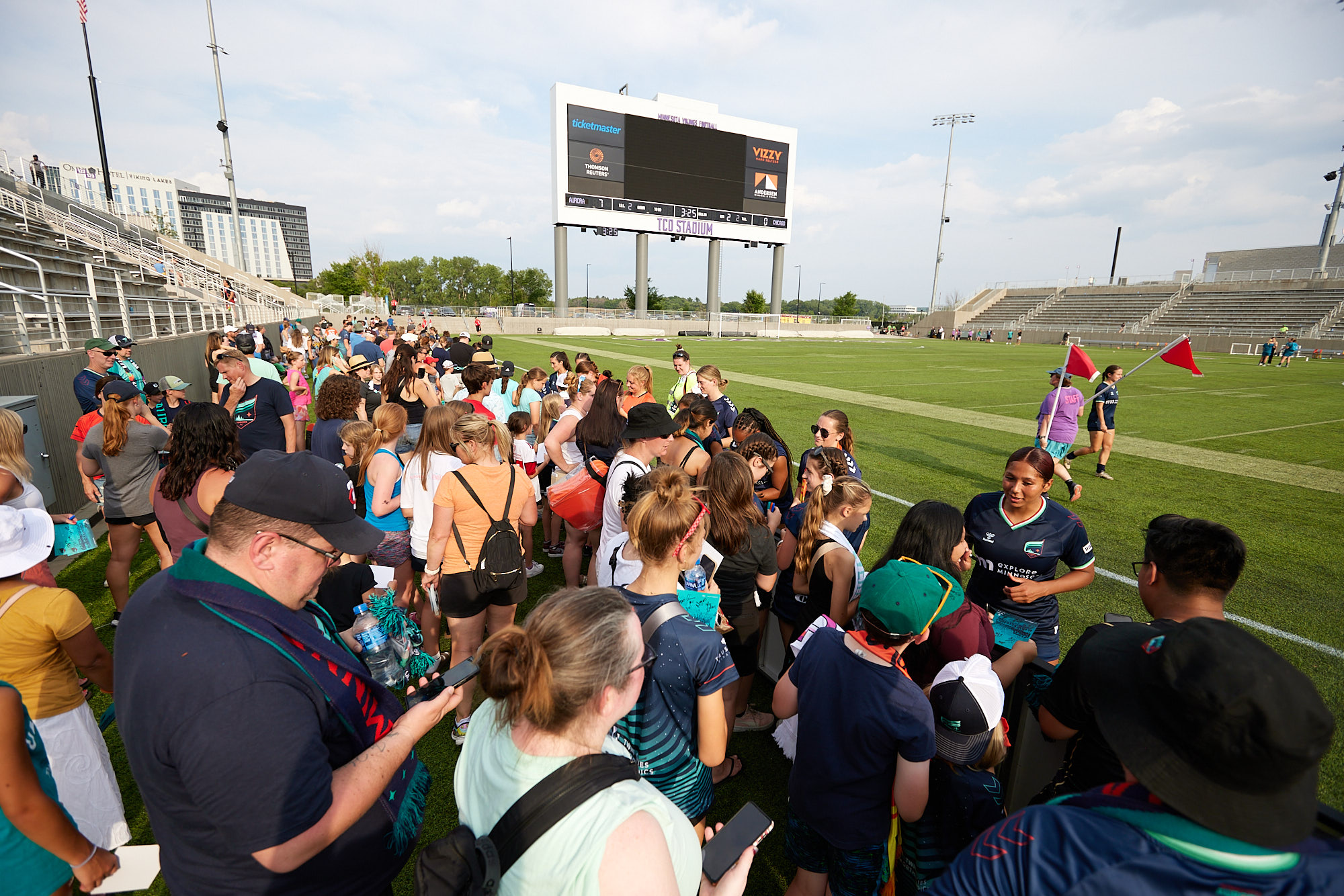 Aurora moves on to the postseason, joined by Chicago City in Flint, Mich., for conference playoffs next week. The players (and staff) will get a couple days of much need rest but then they return to training and, Lukic says, the focus is the same: "As long as we continue doing the little things that we need to be doing right, it shouldn't matter where we play."
With any luck, Kettering University's Atwood Stadium will have the streaming capabilities to host 7,000-plus Aurora fans watching from Minnesota.