MN Aurora Showcases Depth, Creativity in 10 Goal Rout of RKC
Minnesota Aurora FC improved to 3-0 on Wednesday night, scoring ten unanswered goals against RKC Third Coast, the expansion side from Racine-Kenosha (WI). Aurora is the second W League team to score double-digits in 2023 (but the first to not concede) and the fourth to do so since the league began in 2022.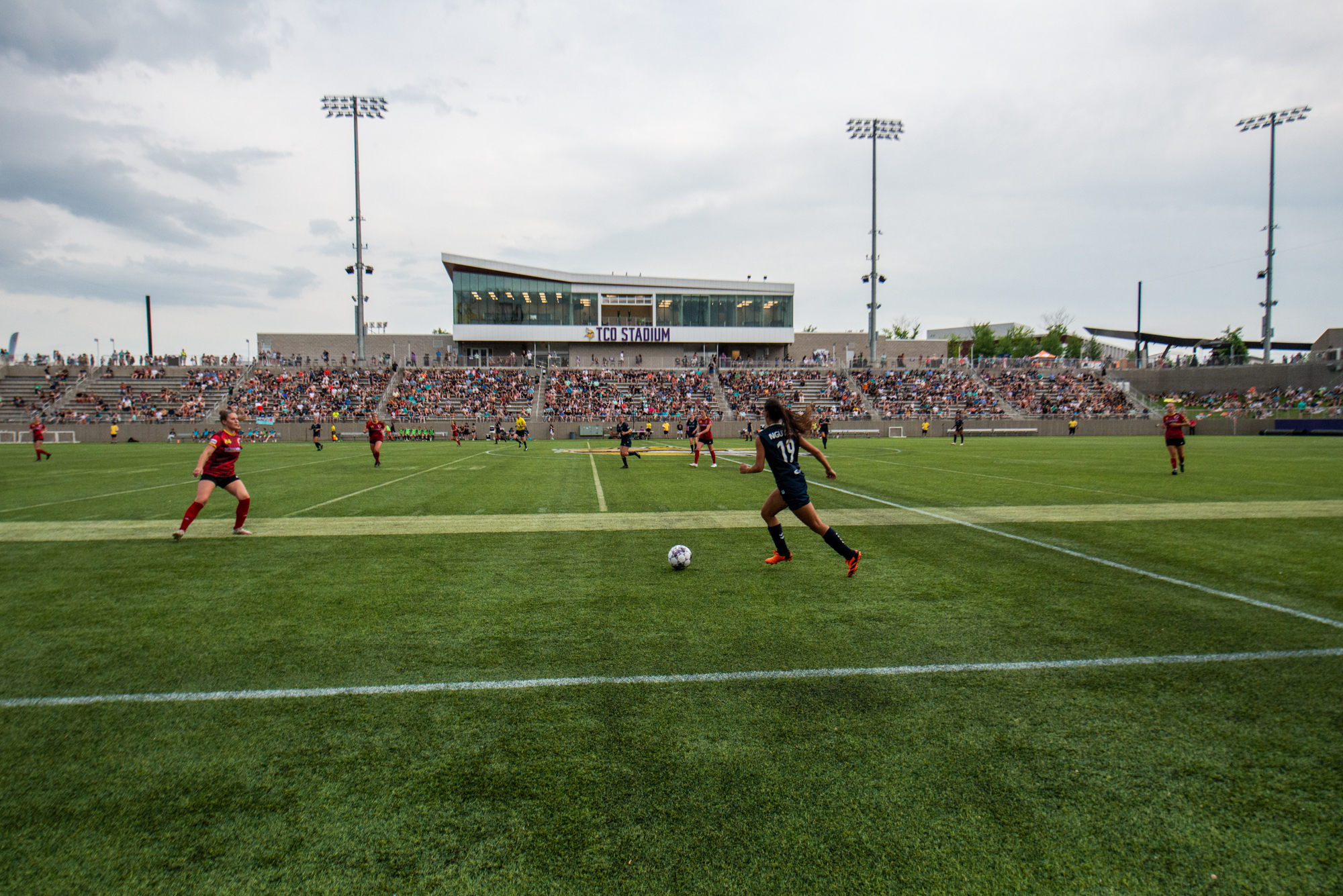 View our full photo gallery here
Aurora returned home to TCO Stadium in Eagan on Wednesday night, carrying three points from the weekend's match against the Chicago Dutch Lions. Head coach Nicole Lukic made some significant changes to the lineup, sending out all three Rapp triplets and giving Ari DelMoral her first start of the season, but the attack and backline remained unchanged. This tested scoring squad faced a thin RKC lineup – due to transportation constraints they traveled with only two substitutes due, including a goalkeeper, on one of the hottest and most humid nights so far of this Minnesota summer.
Cat Rapp and Maya Hansen kept their attacking connections alive in this match, opening the scoring when Rapp found an unmarked Hansen in front of goal in the 3′. The squad celebrated by sitting on the endline to "row the boat." Rapp added her own in the 9′, putting Racine's back line on notice with a 2-0 deficit inside of 10 minutes. As Aurora players put on a more subdued celebration, RKC's goalkeeper and defenders huddled, soon joined by most of their midfielders. From Aurora's first offensive press (which started from the whistle), RKC was flooding their box with defenders with the intention of bunkering against Aurora's possession and presumably to start their own attacks on the counter. However, a bunker only works if those involved are marking the opponent well, and in this instance, RKC was not successful on that front; rather every defender was repeatedly caught ball watching, perhaps expecting a teammate to step up to the ball. They came out of the huddle with a more concerted plan, beginning to go two-v-one with whoever was in possession in their attacking third. That didn't work either.
Goals Goals Goals
Captain and rightback Makenzie Langdok is not to be deterred by a double-teaming defense. Langdok led much of the offensive efforts on the wing and in the 19′ she juked her two defenders and beat a couple more before finding Hansen fully unmarked in the box. 3-0 Aurora. And it continued. Cat Rapp found Hansen again in the 31′ for the team's fourth goal and Hansen's third. With a hat trick and two-thirds of a game left to play, Aurora did not let up. The team celebrations, however, stopped after the third goal, reduced to high fives and hugs as they jogged to the center circle for the restart.
Ari DelMoral got her first goal with a banger from 18 yards out into the upper right corner. RKC keeper Greta Harms made a leaping effort to stop it but simply could not get there. 5-0. Morgan Stone, the squad's leading scorer in 2022, nabbed her first goal of the season with a clean finish in the 44′. Officials added two minutes to the half, simply to make up for the three-minute water break, but it felt a bit ridiculous given the scoreline. The two minutes were relatively quiet – Aurora went into the locker room up 6-0.
Both teams made wholesale changes after halftime. Lukic sent in Taylor Kane for Amanda Poorbaugh, giving Kane her first minutes of the 2023 season after keeping her out of the first two games as a precaution following a minor thumb injury suffered in preseason. Also subbing in were: Vienna Behnke for Rami Rapp, Hannah Adler for Cat Rapp, Kylie Olsen for Langdok, Lydia Ruppert for Nguyen, Sophie French for DelMoral, and Kaitlyn MacBean for Hansen. RKC also used all two of their subs, most notably replacing Harms in goal with Mia Guyton.
Guyton immediately faced Aurora's attacking gauntlet: French scored in the 49′ (her first of the campaign), Tianna Harris in the 54′ (her first for the club), and Adler in the 56′. MacBean, credited with the assist on Adler's goal, scored one of her own in the 63′. And to mix things up, Stone added a yellow card in the 51′. "It's nice to see a variety in goals and goal scorers," Lukic said. "It helps us as we continue through the season to make players feel good, that they can be the person to score on any given night."
On her first half hat trick, Hansen said, "I think my mentality was, if it comes, it comes, but obviously I was striving for that. That's a cool achievement and obviously wouldn't be possible without my teammates. I mean, they really put them just, like, on a platter for me. They made my job super, super easy, but yeah, that's a cool accomplishment to have for sure."
The win, and the ten goals scored in an hour of play, secured first place in the Heartland Division, a tie on points with Chicago City SC broken by Aurora's goal differential – 19GF/0GA well ahead of CCSC's impressive 10GF/1GA. RKC, already at the bottom of the table despite having played one more match than Aurora, saw their goal differential plummet further, with 1GF/23GA giving them a -22 GD.
Hansen cited squad quality, both on and off the pitch, as a key factor in Aurora's success just three matches into the season. "The new players have been extremely easy to integrate into our team from last year. You can really tell that Nicole [Lukic] and the coaching staff paid attention to who these people are as people, not just as players. So who they are off the field makes it really easy to play with them on the field and that chemistry kind of just flows super naturally." She also said that that chemistry has improved in-game communication (one of the factors Lukic said played into some sloppy play in the opening match): "I think we have good success as the year has continued to progress, just learning how each other plays so that communication kind of becomes a little less needed."
USL-W Context
While Aurora's supporters, MN Revontulet, chanted "We want 11!", some comments on twitter suggested that the home side should have let up, shifting their focus to possession rather than scoring. But what is the appropriate way to respond in a match that so clearly displays the gap in resources between two teams elevated to the same league and division? RKC has potential but did not have the same resources to build out when promoted from club soccer to USL-W as Minnesota Aurora had from their start in 2022. With an already thin squad, and without the resources to travel with more than a couple subs, RKC faces an uphill battle as they integrate into the W League. While a ten goal rout seems excessive, the club did not join the league to play soft – Aurora letting up would have been disrespectful in that sense.
But Aurora is also a regional anomaly. While the club routinely led the division in scoring in 2022, Wednesday night's performance produced double the goals of their highest-scoring match last season, a 5-1 win over Green Bay. While preseason began with talk about how Aurora might fare in a much-expanded league, the club's stats just three matches in rival those of a club Lukic cited as an illustration of the league's growth and improved quality. San Francisco Glens FC leads the Nor Cal Division with six wins from six matches played (Nor Cal began the season a couple weeks earlier than Heartland for obvious reasons) and a goal differential of 24 (27GF/3GA). In last place, eighth, is Academica SC with five losses in five games and 2GF/24GA, matching RKC's -22 goal differential. The gap in resources and the talent pool in the Nor Cal Division is similar to those in the Heartland.
It's Still Early
MN Aurora will travel to Rochester on Sunday, June 4, to face the Loons again. Rochester FC has not earned any points from their first three matches and five of their eight goals conceded thus far were scored by Aurora in the season opener. They sit one place above RKC but, unlike RKC, have yet to score a goal of their own. They also had a thin squad when they traveled to TCO Stadium, sitting a handful of players who suffered injuries in preseason, but have put up a fight in every match. Aurora's bench and adaptability will keep them on the front foot as division play continues, but there is still time for clubs like RFC to catch up.
Sunday's action kicks off at 3 P.M. EST from Rochester Community and Technical College. MN Aurora will then return home to host the Chicago Dutch Lions on Wednesday and before traveling to play Chicago City SC on Sunday.