MN Aurora Emphasizes Effort Over Goals – Even For Their Opponents
Minnesota Aurora FC closed out the month of May with three wins from three games, having outscored their opponents 19-0. Ten of those goals came from a home match against expansion side RKC Third Coast on May 31 so they rolled into an away fixture at Rochester FC on June 4 with confidence in their depth and creativity. In Aurora's home opener against Rochester FC, the squad put up five unanswered goals on an injury-depleted squad. As hosts, Rochester bettered that performance in the second leg and proved that despite the lopsided resources seen across USL-W conferences, even the bottom ranked teams can play level with the leaders.
Sunday, June 4 at RCTC Stadium: Rochester FC 0 – 1 MN Aurora FC
The Sunday matinee at RCTC Stadium felt more like a home game for Aurora with at least half of the crowd sporting teal, as captured by our friends at Equal Time Soccer, but both squads heard cheers for some stellar efforts through the match. Both starting goalkeepers, Aurora's Olivia Graupman and Rochester's Emma Knack, played lights out. While RFC went into the match outscored 8-0 on the season, Knack held off Aurora's chances from open play and tested Aurora's shot selection. The Isanti native and NDSU-commit allowed only one goal in this game, a header by Tianna Harris from one of Aurora's many corner kicks.
Graupman, starting over Taylor Kane as a precaution at this stage of the season, has not faced too many shots but was tested by Rochester. Lissa Mizutani, who was named Defensive Rookie of the Year in her freshman year at University of St Thomas, nearly snagged the equalizing [and Rochester's first] goal in the 89th minute, but the crossbar and perhaps Graupman's fingertips, kept her off the board.
One might think that continuing to concede goals while not scoring any of their own would be detrimental to a squad's confidence. However, Mizutani and teammate Jayda Brown relish the opportunity. When asked about their goals as players on an expansion team, amidst the gaps in the standings and playing experience between teams, Mizutani told NLF, "It's good learning and you're not always gonna win, but you're getting better every game and we're all on the same page."
The goal [*ahem*] of the W League is to develop players and give them a pathway to higher levels of play. For Brown, match results are not the most important part of that development: "Well, I guess for everyone on our team it's just like, getting better. That's one of our main goals from here. Hopefully, if we get the opportunity to go pro then that's something that we're looking forward to but our goal right now is to focus on getting better first before we can move forward." It is also an opportunity to learn from each other, maturing as players in a new environment with new people. "I mean, I think like being such a new team, we are working really on team bonding and chemistry and just being able to connect passes and work on the simple stuff and get to know each other better," Mizutani explained. For Brown, the proof was in the 1-0 loss:
Yeah, that's one of the hard things about being a new team. Like we don't know each other. So we're just trying to build that chemistry as you can see. Like, today I felt like we did an awesome job. Coming after this we're going to do so good – like I can see great things happening. I'm not sure about anybody else but I think we're getting there and we're working extremely hard to become better. So playing against a team like that [Aurora] is like teaching us, you know, how to make better passes and you know, just transitioning and how to make better moves. So yeah, we're extremely proud of our team and what we did today, for sure.
For Aurora head coach Nicole Lukic, the lesson was in a rotated lineup getting the job done against an improved team: "We learned a lot today from trying different players in new positions. It was a good reminder for us that we are going to get our opponents' best game the second time we play them."
Speaking of second times…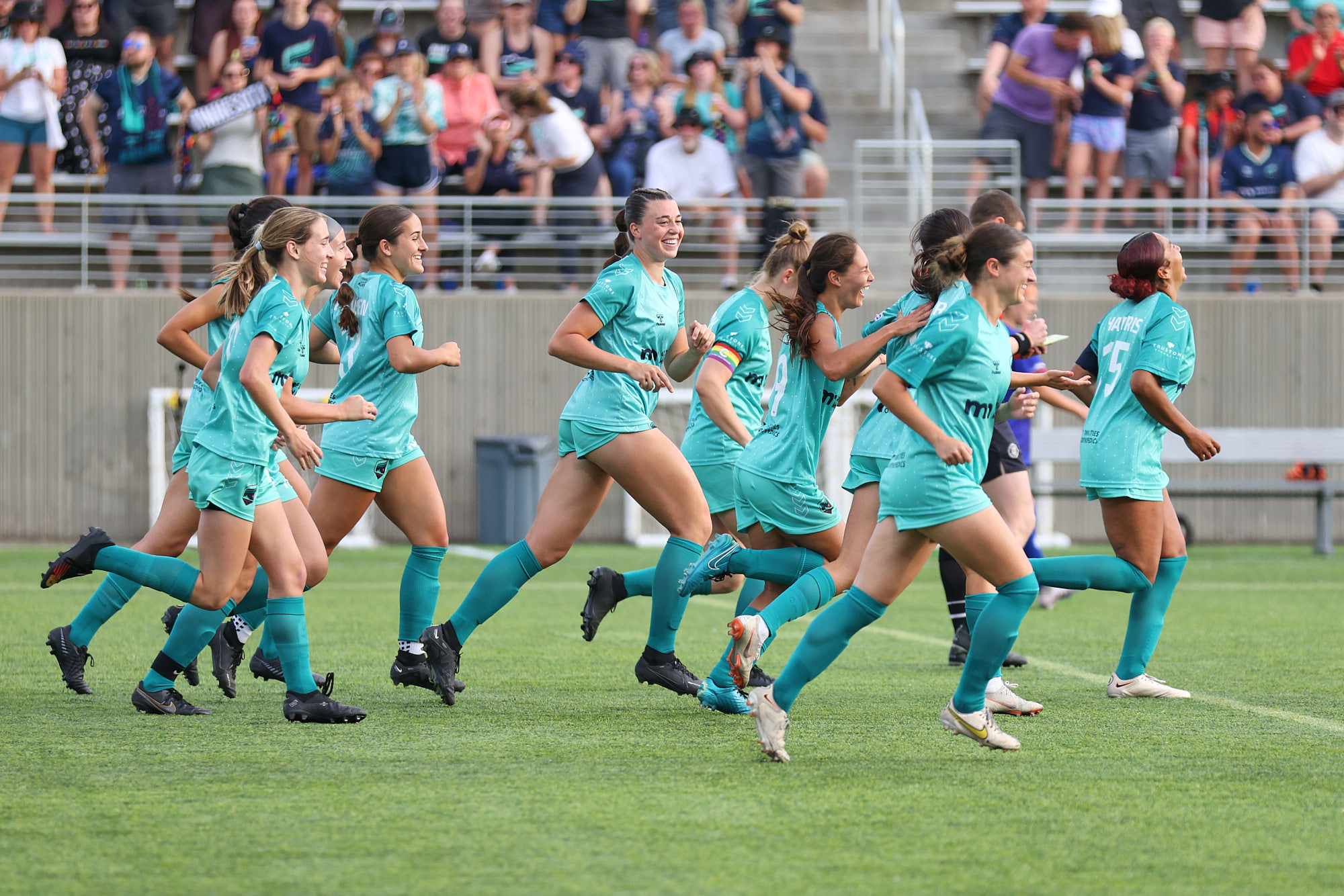 (View our full MN Aurora v. Chicago Dutch Lions photo gallery here)
Wednesday, June 7: MN Aurora FC 6 – 1 Chicago Dutch Lions
Aurora returned home on Wednesday night to host the Chicago Dutch Lions after beating them 4-0 on the road (at Aurora University, in Aurora, Ill.). The Dutch Lions did indeed bring their best game, scoring in the 73rd minute to end Aurora's clean sheet streak. Unfortunately for the Lions, Katelyn Nardulli's tally was merely a consolation goal, as Aurora had already put up five of their own and would add one more before the final whistle to win 6-1.
Three of Aurora's six goals came in the first half — all credited to Hannah Adler, who capped off a hat trick in the 44th minute with a beautiful assist from Cat Rapp. After two penalty kick goals, the open play goal was all the more sweet. "Hannah created a lot for us,"  Lukic said. "She is good at moving into spaces. It was a different game, there was less space behind today. But she still was able to find different moments to link up with players."
Goal 3 😌🔥 pic.twitter.com/eI67z4XMXm

— Minnesota Aurora FC (@MNAuroraFC) June 8, 2023
Adler is one of the second-year additions still gaining familiarity with the squad but the Star Tribune Star of the Game said, "It's been a really easy adjustment to come into this team. They've made it really easy for me and yeah, I think just as we continue to grow, our confidence as a group will continue to grow."
According to Lukic, they still have a lot of growing to do. To say she was not thrilled with the team's performance on Wednesday may be an understatement.
"I think we just lacked energy and passion overall at moments and were complacent with the 6-1, at one time 5-0, win. So yeah, I would like to see us stay mentally sharp for 90 minutes and that's something that we've already talked about since the game ended and feel the group agreeing which is a good thing but something we have to be better at going forward."
She went on to describe it as "a mindset problem" — "It's just one of those things that you can't really put your thumb on but you know something was off" and that is a problem that will need to be fixed as the team moves on to the second half of the season to face teams they haven't yet seen.
"We still have the best opponents in the division left, according to the table right now. Second, third, and fourth place teams, Green Bay and Milwaukee Bavarians, who we haven't seen at all. We'll see City on Sunday so, right away, we should have a good challenge right in front of us, but we're definitely gonna have to play a lot better than we did today to make the payoffs."
While Mariah Nguyen's late goal made SportsCenter's Top Ten at No. 6, it was perhaps a poor decision. Lukic cited over-dribbling multiple times in her critique of the 90-minute performance. Aurora will need to be more purposeful with the ball in upcoming games to continue to earn the accolades they have in the first five weeks of the season. We may see some more shots from distance and quick decisions, like Morgan Stone's goal against RKC last weekend, which was named the league's Goal of the Week. And last Sunday's Star of the Game, Tianna Harris, who was also named Captain of the Team of the Month, will need to pull out all the centerback stops moving forward.
Second-Best Is Up Next (Sunday, June 11: Chicago City SC v. MN Aurora FC)
Chicago City SC is in second place, two points behind Aurora following a draw with Bavarians (the only tie in the Heartland Division thus far). City has only conceded four goals in five games while scoring 14, half of which came against RKC Third Coast just days before Aurora shutout that side 10-0. Sunday's matchup will likely be Aurora's toughest test on the season and it will be a true away environment given the distance from the Twin Cities. Goals are nice, but three points on the road would be a great boost ahead of a two-match home stand this coming week and would put a little distance between Aurora and City as we move into the latter half of the season.
Sunday's action will be streamed live on Eleven Sports.
**Author's notes: This article was first published with Brown's quotes attributed to her teammate Jennifer Reyna — I had copy/pasted my quote sheet to the roster and did not catch the error until after publishing. We have also corrected an error naming Poorbaugh as the MNA keeper on Sunday – Olivia Graupman played the full match. My sincere apologies for the errors.