Aurora Thrive On Adversity, Add 5-1 Win Over Bavarian United
As a club more accustomed to creating adversity than facing it, the pitch was switched on MN Aurora this week but they emerged stronger, outscoring two Wisconsin opponents ten to one, despite a late venue change midweek and an early conceded goal that silenced TCO Stadium on Saturday night.
Poor air quality in the MSP area and throughout the state due to Canadian wildfires moved Wednesday night's home match against Green Bay Glory to an indoor venue, with no fans and no media. However, MN Aurora FC partners Eagan TV and Fox9 rallied to make the streaming show go on. Aurora won 5-0 with two goals from Cat Rapp and one each from Hannah Adler, Kylie Olsen, and Sophie French.
"I think overall, I mean the staff was probably the most stressed out because, myself included, we were the ones managing a lot of the changes and we tried to keep that off the players on Wednesday and I think we did a good job of that so they were able to just adjust to the location," head coach Nicole Lukic said on Saturday. "I think we gave them enought heads up, at four o'clock like – hey, something might happen, it might be different – like getting in that mindset and I thought that worked really well."
While Aurora proved they can do it under the dome of Stillwater's St. Croix Valley Rec Center on a pitch lined with youth soccer goals and lacrosse creases, the squad was eager to return to their true home on Saturday, celebrating Pride at a sold-out TCO Stadium. Aurora repeatedly tested the spectator limits of the Minnesota Vikings practice facility in 2022 and their sophomore year has been no different, despite all the Wednesday evening matchups. Saturday's match drew a season high 6,423 fans. Alas, the adversity continued under a nearly smoke-free sky.
Rather than scoring an early goal to get the crowd going, Aurora conceded one to Bavarian United SC. The Milwaukee-based expansion side sits in third in the Heartland Division, behind Aurora and Chicago City. Everyone watching this match quickly saw why. A high press, a quick defense, and an unshakable midfield, rattled Aurora early, forcing the hosts to defend against tactics much like their own for the first time this season.
Bavarian took control of possession early, testing Aurora's back line and looking for space. In only the 2nd minute they capitalized on a poorly-timed clearance by Abby Ostrem in Aurora's 18, catching centerback Tianna Harris and goalkeeper Amanda Poorbaugh on the back foot. Haley Johnson came through with a cool, calm finish to put Bavarian United up 1-0 and silencing a crowd more accustomed to seeing early goals from the home team.
"Obviously not the best way to start a game, two minutes in to give up a goal and let them kind of run through you," Lukic said. "And then I thought we abandoned our game plan a little bit there for 25 minutes. That rattled us a little bit more than we would have liked."
"They tested us, honestly, the first ten minutes. We had to settle ourselves in I think. I never doubted our team one bit," said centerback Tianna Harris. "We just knew to pick our heads up [after the goal] and let's freaking go."
Harris had a lot of one-v-one defensive opportunities against Haley Johnson, both strong and persistent players. Johnson got through with one but Harris was the one to hold her off through the rest of the match. "I love a challenge," she said. "I think just being a bigger body, I was trying to get something on her and just tried my best to be physical with her because she's a physical girl as well. "
The visitors continued to disrupt Aurora's midfield and managed to raise some tension. Morgan Stone made a few uncharacteristically stiff challenges, getting away with one, but earning a yellow card for another in the 24′. Hannah Adler had a great chance in the 26′ but Bavarian goalkeeper Chloe Olson was up for the challenge. In the 29′, Cat Rapp finally found the net following a flurry of blocked shots in a crowded box.
Never quit 😎 pic.twitter.com/xJsIXnJ2HF

— Minnesota Aurora FC (@MNAuroraFC) June 18, 2023
The equalizer woke the crowd and Aurora's offense. Maya Hansen, credited with the assist to Rapp, found the go-ahead goal in the 33′. She made collecting and settling a long ball from leftback Abby Ostrem look easy, and added a clinical finish.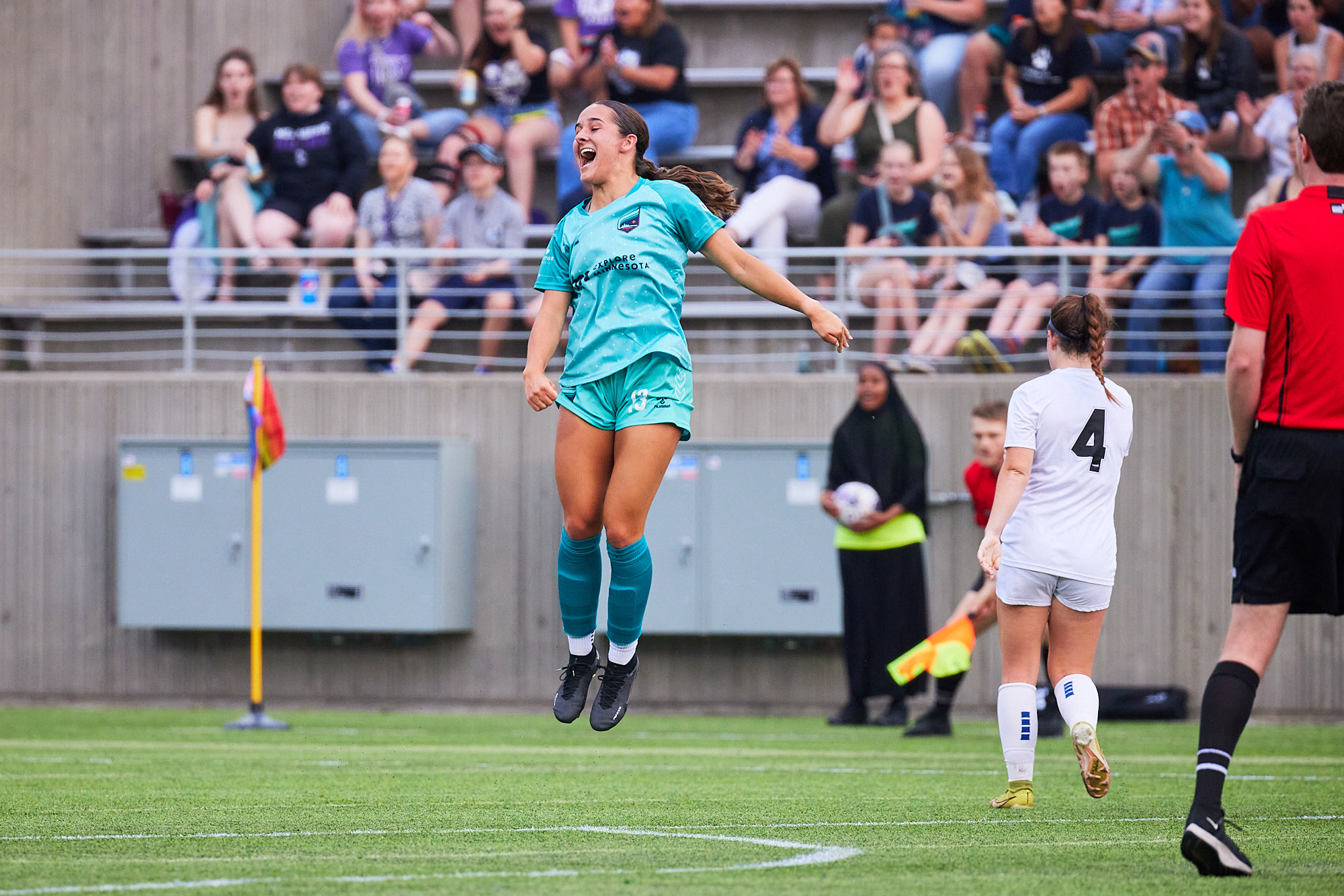 Hannah Adler added the insurance goal before the halftime whistle, following up her own scuffed first touch on a pass from Mariah Nguyen to tap it past Olson. The 3-1 lead was a result of a formation change after the poor start. Lukic reverted to the four-player back line  after starting the night with three: "It gave us more confidence," Lukic explained. "We felt this made us feel a little bit more protected whether we needed that or not. Whether it was false confidence or real confidence, I'm not sure but it definitely worked." The switch led to three unanswered goals in 20 minutes.
"It gave us another number in the wide spaces which is where we kept finding the ball without a lot of support and ability to move forward. So overall I think it really helped us, just to settle down and get back into our settings."
Both teams came out fighting in the second half, Bavarian continuing to press while Aurora probed for shots. However, just  a couple minutes in, everyone had another chance to regroup. A collision in Aurora's half in the 47′ between Addison Weichers and Bavarians' Hannah Kroupa resulted in a five minute stoppage of play. Kroupa took the worst of the aerial head-to-head impact, suffering a laceration on her forehead that took a few minutes to control. Weichers was checked out and returned to the pitch as the stadium crew and athletic trainers managed the blood spilled on the turf and on Kroupa, who did not return to the game.
Aurora scored two more in the second half but Bavarian continued to make them work for it. Nguyen's goal in the 62′, assisted by a long range cross in from Eli Rapp, may have secured the game as momentum, both on the pitch an finally shifted fully in Aurora's favor.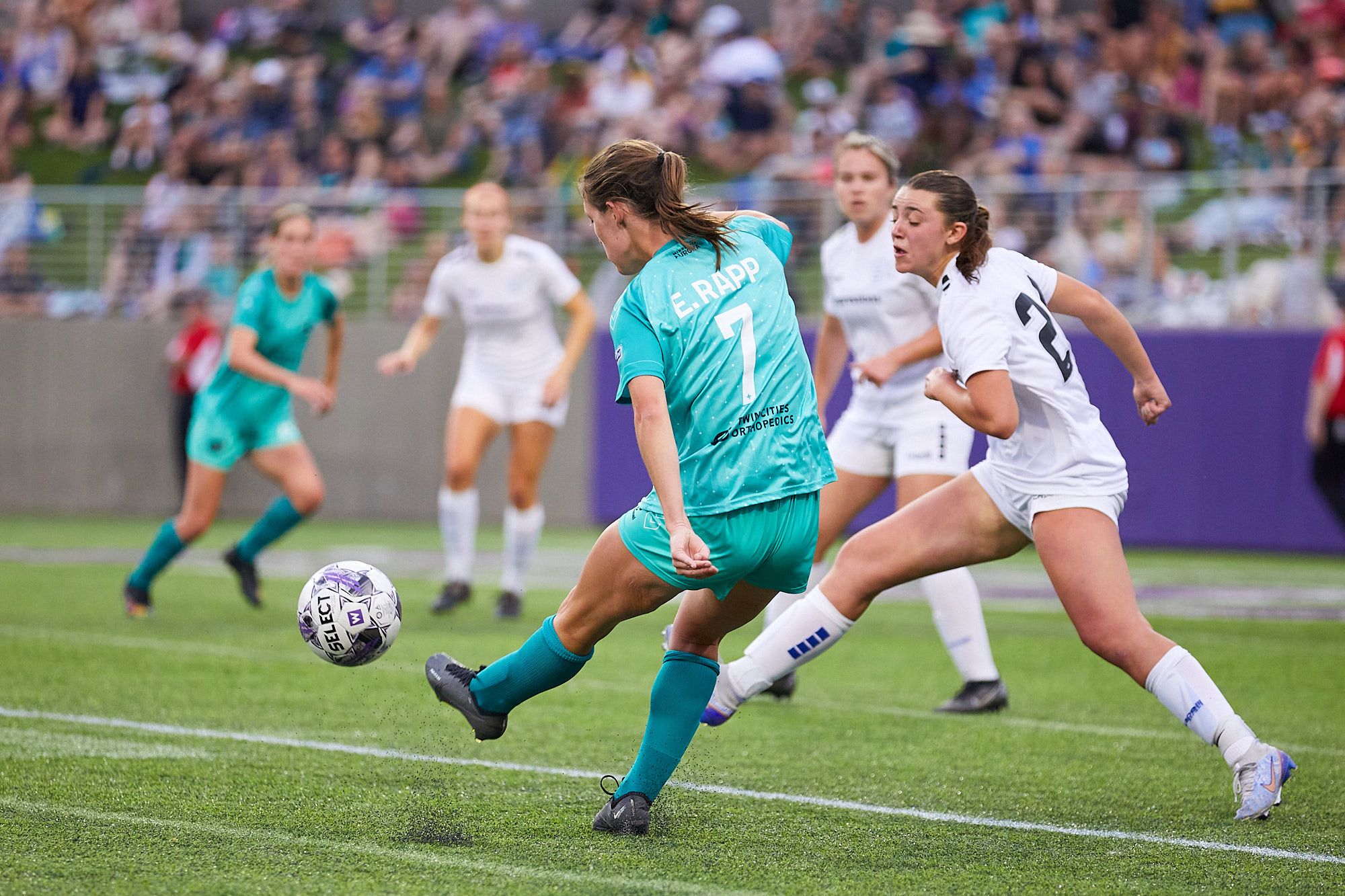 Aurora continued to display their depth and versatility putting a fifth goal from a fifth goalscorer in the 76′ Harris got her head on a corner served in by Weichers and notched her fourth such goal of the season. Harris earned Star of the Game honors for the finish but credited the service for the opportunity.
"I love defending but attacking, that's my thing. I love it. So when I get the chance in the box and honestly, great service is provided — me and Addy [Weichers] have kind of developed a little bit of a bond and she basically just puts it right on my head. I don't have to do too much. She's amazing."
It all came together on Saturday night, just as it all came together on Wednesday, and Aurora FC is embracing the circumstances thrown at them this season. Harris explained: "All those types of adversity are prepping us for playoffs. So we kind of look at it like, listen, this is what they gave us. We're gonna take it, make the best out of it. And I think we're just getting ready for playoffs and all of this is just part of the plot, I'm telling you."
Aurora's next chapter will be on the road. They will travel to Racine on Wednesday for a second meeting with RKC Third Coast and then to Milwaukee on Saturday for a rematch with Bavarian United. Saturday's win puts more distance between first place Aurora (24 points) and second place Chicago City (16 points), but Bavarian is still in a close third (13 points).