MN Aurora FC Shuts Out Rochester FC In 5 Goal Opener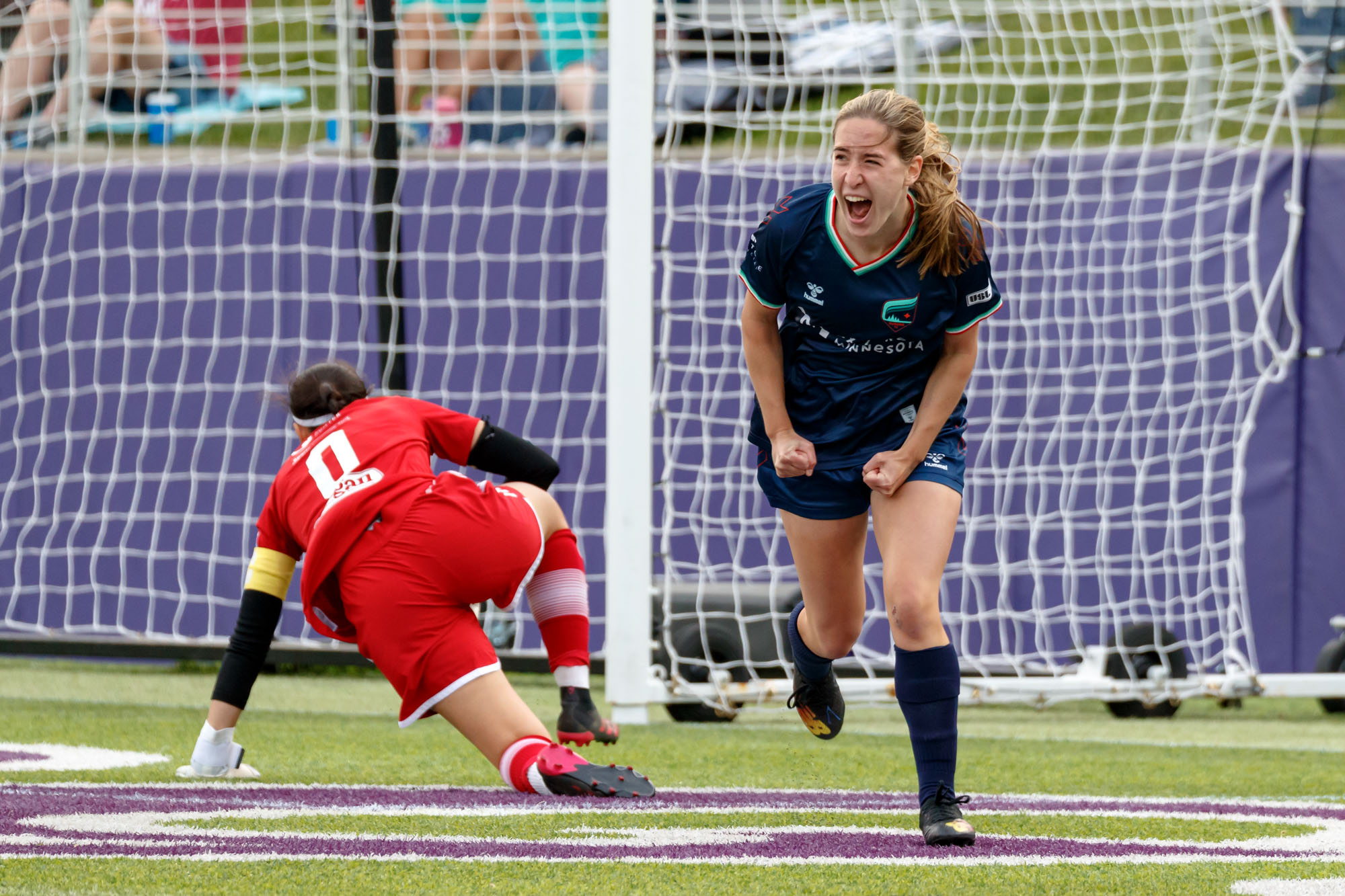 Minnesota Aurora FC opened the 2023 season by hosting expansion side Rochester FC, welcoming the Loons to the league with a five goal shutout. Three returning players tallied four massive goals in the first half to welcome fans back to TCO Stadium, starting what is sure to be a tough season on the front foot.
"Breaking news, the conference champs are still really, really good at soccer," Rochester FC tweeted at full time. The Rochester Loons are one of the Heartland Division expansion sides, bringing some in-state competition to Aurora's calendar. A very young RFC squad put up a good fight, particularly in the second half, but ultimately could not answer the goal tally put up by the Aurora.
Minnesota earned a corner within the first minute, a freekick in the second, struck side netting in the fourth. The first goal finally (yes, finally) came in the 6′, a clean finish by Cat Rapp on a cross from Makenzie Langdok. While Rochester took advantage of a few counters, their finishing was not clean or powerful enough to trouble starting goalkeeper Amanda Poorbaugh. But an Aurora offense featuring four returning players (Rapp, Mariah Nguyen, Hannah Adler, Sophie French and Maya Hansen) was no easy match. Mariah Nguyen, who found side netting early, found Hannah Adler in the six yard box in the 14′. Adler settled the ball and sent an inside-of-the-boot finish past keeper Carlota Alcade.
Alcade, who had 12 saves in RFC's 1-0 opening loss against Bavarian SC last week, looked less confident against Aurora. Down 2-0 inside of 15 minutes, it would be a long night for her. A minute after the crossbar denied a Nguyen scissor kick, Hansen found Rapp who slipped past the centerback and beat Alcade again to make it 3-0 in the 35′. Then just after the restart, Adler sent a ball to Hansen whose quick finish made it 4-0 in the 36′.
"It was fun, and I think it helped us settle down a little bit," head coach Nicole Lukic said of the four first half goals. Of Rapp's two goals, Lukic said, "Incredible and not surprising because she's been on fire the last two weeks at training so really happen to see some goals going in for her tonight."
Here it is 🤩 pic.twitter.com/7gs2lZ4tTw

— Minnesota Aurora FC (@MNAuroraFC) May 25, 2023
Rapp credited preseason preparation for Wednesday's result:
"We have a mindset and a goal and a plan of what we want to do and because my teammates and all we've been working on for the past couple weeks with coaches and everybody, I was able to just do my job and finish the chances I had."
The score held through to halftime with Rochester growing into the game in those ten minutes but still feeling things out. Aurora's Nguyen tangled with Sera Speltz on the wing a few times, each attempting physical runs.
Each side made three changes to start the half with newcomer Vienna Behnke replacing Nguyen and Lydia Ruppert and Jelena Zbiljic replacing Ostrem and French for Aurora. Emma Knack entered the game for Rochester, replacing Alcade in goal, joined by Becca Cook and Ava Adams. The first half hour of the second half was much like the last ten minutes of the first half with Rochester getting a little more purpose from their possession (Mizutani's freekick attempt in the 53′ was high but seemed to renew Rochester's attack) but a took a few more subs for the next goal to happen.
In the 83′, after a few well-timed if not powerful shots, Aurora's Kristelle Yewah took advantage of a miscue by Knack, getting behind the keeper and flustering both centerbacks before deflecting a long ball from defender Kennedy Faulknor to Jelena Zbiljic, who tapped it home for the fifth and final goal.
"Incredible ball," Lukic reflected. "Well-weighted, left footed, just floated right into Kristelle's feet."
A beautiful night for a fifth goal 😍 pic.twitter.com/jts3RGTrcT

— Minnesota Aurora FC (@MNAuroraFC) May 25, 2023
A five goal shutout with two key players out due to knocks suffered in preseason friendlies (Kelsey Kaufusi – hamstring; Taylor Kane – thumb) is a solid start for a team that expects to score but also concede more in their second season. The crowd of 5,187 fans made the work a little difficult for Lukic and her squad:
"To be honest, I think at times we were still pretty choppy and sloppy through the night and the ball was out of bounds a lot […] I learned that we're a little more nervous than I thought we would be being back in this environment but that'll come with time and your know, our next game's on the road. So it'd be nice to kind of work on some things and build off of tonight and in a little bit more quiet atmosphere where we can hear each other, because I couldn't even get anything across to the other side of the field today.
Lukic found plenty of things to work on despite the 5-0 result, but this is not a bad problem to have in the first match of a compact but long season. The Aurora face a quick turnaround with match two coming Saturday at Chicago Dutch Lions. But as Lukic noted, that will be a good environment for them to work on communication and any other problems visible in the first competitive runout.
However, as promised in preseason, this 2023 Aurora squad plans to continue scoring and putting on the pressure, even if they [eventually] have to concede a few more goals along the way. They may not all be 5-0 shutouts, but this team is ready to continue the Aurora Way.
Aurora will face the Chicago Dutch Lions on the road Saturday before returning to TCO to host another new opponent, RKC (Racine, WI) in a Wednesday night prime time feature.
Photo Gallery: Minnesota Aurora vs. Rochester FC